Variable CFM | A Healthy Solution for Clean Air
The Air-Vac VMC Series provides efficient removal of irritating contaminants such as smoke, oilmist, chemical fumes, or any type of dust. The VMC offers a versatile platform which can be machine mounted, placed next to or hung above the problem area. With effective air quality management, the benefits are a more clean, healthier atmosphere for you and your employees within the harshest environments. Lower initial cost, combined with lower operational cost and easy maintenance, make the VMC series a good choice for any size company.
All Air-Vac units are designed using 16 Gauge cold rolled steel cabinets with industrial grade components. VMC is finished with chemical and resistant powder coating for long durability. The VMC model incorporates a multi-stage filtration and is available in a wide range of configurations.
*5 year warranty on parts excludes filters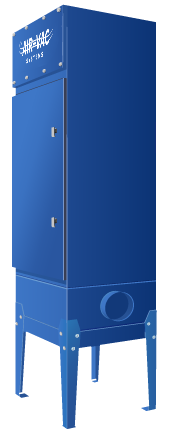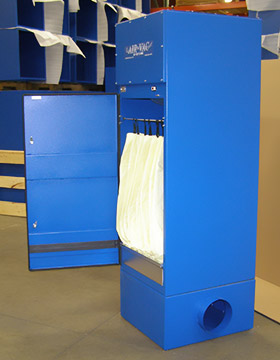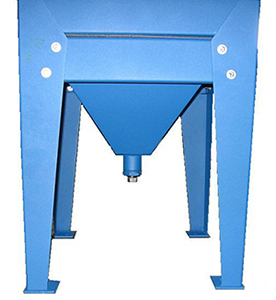 Optional 24" stand with oil capture drain pan.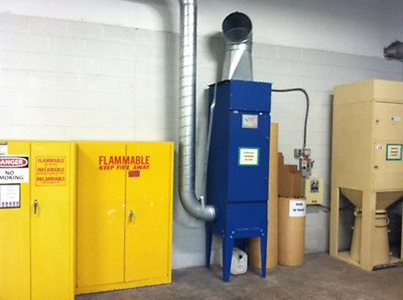 3 STAGE FILTRATION PROCESS
A common 4 inch thick pleated filter is used to economically capture the larger particles in the air while keeping the cost of the filter to a minimum. This filter should be changed most often and extends the life of the main bag filters. .
The air is filtered through 30 inch long, 8 pocket, 95% ASHRAE micro-glass bag filter (80 ft2) particulate filtration process. These filters are able to separate sub-micron particles from the air passing through the unit. The clean air is then exhausted back into the building.
HE Model — For fine dust application that need very fine filtration, a 99.9% HEPA (High Efficiency Particulate Arresting) filter option is available for the VMC. When this option is requested, an 18" x 24" x 12" deep, HEPA filter is combined in the cabinet following an 18" long, 8 pocket, 95% bag filter which prolongs the life of the HEPA filter.
CC Model — For chemical fumes application, a pellet-filled filter bank module is available. There are two 18 lb modules installed for a total of 36 lbs of activated charcoal granules in addition to an 18 inch long, 8 pocket, 95% bag filter. This activated granular charcoal filter which starts the process of adsorption of gaseous air contaminants by bonding to the molecular structure of the carbon surface. Adsorption is the adhesion of airborn particles solid to a surface and is the best method for reducing VOCs (volatile organic compounds) and odors in the air.