1,100 ft3 /min. | A Healthy Solution for Clean Air
The Air-Vac M-35P series provides 1050 CFM (Cubic Foot per Minute) of air filtration in an efficient and concentrated location. It features a metal mesh pre-filter with a debris tray to capture and prevent welding and grinding sparks, and other local air-hazards from entering the main filtering area.
The Air-Vac M-35P is a portable air cleaner which can be moved from workstation to workstation removing heavy welding smoke/fumes, grinding/sanding dust, coolant mist, and chemical scale. The arm can be positioned at the source of emittance pulling the contaminants directly away from your operating personnel and into the filter system before the contaminants can escape into the atmosphere.
The 6" diameter, articulated pickup arm can be swung in a 270° arc at the base and it extends up to 10ft. The Air-Vac arm has no internal support structure to impede the airflow through the arm. The result is increased airflow through the arm with a more efficient capture of the contaminants being removed. External friction joints counterbalance the weight which provide complete stability and flexibility.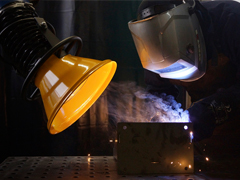 The Air-Vac M-35P Series have four 5 inch wheels on the base for ease of movement across the floor. The two fully rotating wheels have built-in locks which allow you to hold the unit in a desired location. The power cord is easily stowed by wrapping it around the steering handle on the rear of the unit.
*5 year warranty on parts excludes filters
First, dirty air is pulled through filter intakes at each end of the M-30 series consisting of 4 inch thick pre-filters to catch the large particles.

The second stage filtration process is industrial grade 22 inch deep, 95% efficient bag filters which traps submicron particles that get through the pre-filter. The clean air is then exhausted back into the building through the center of the M-30.